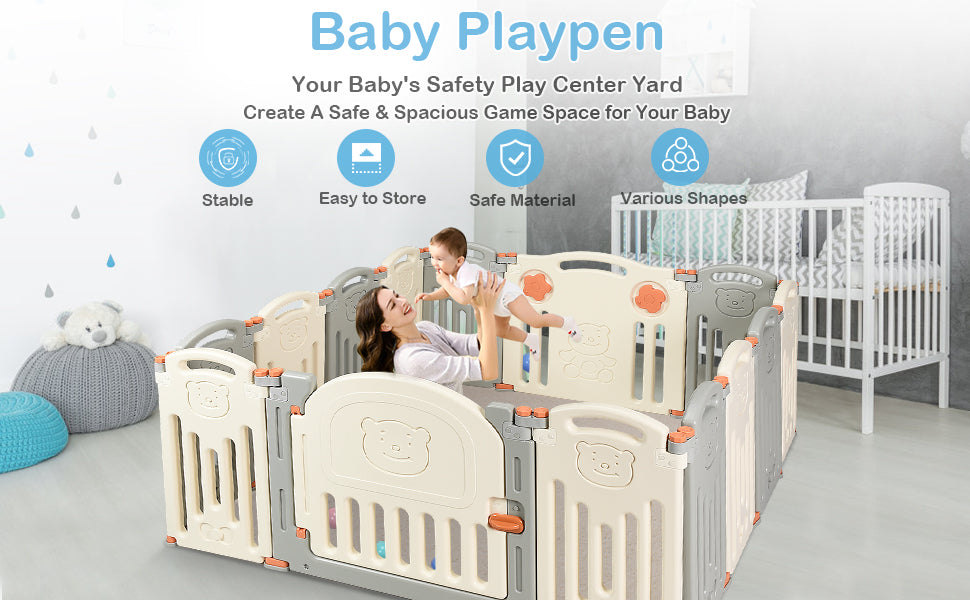 Do you worry about your baby when you do housework? Do you want to find baby play area that safe and healthy? Here we highly recommend this baby playpen baby play fence with lock gate which can provide a safe baby activity centre indoor and outdoor.  Made of absolutely free of toxic material, the baby playpen has no bad smell. The durable structure and manual deburring prevent baby from getting hurt. You can also add toys and picture books for children to give them more fun and create good memories of their childhood.
Safety material: The baby fence is made of free of toxic high-density polyethylene plastic which is strong enough to cause no damage to the baby's health. The non-slip rubber for carpet makes it difficult to overturn and move.  It has gained the certification of  ASTM.
Solid safety: Thanks to the solid hinge connectors and anti-slip pads, the play fence can keep their shape and position. It also comes with a gate that can lock and open freely. It gives a safe space when mom to cook, clean and go to the toilet.
Large playpen size: 55″ x 53″ x 23″ It comes to 14 panels in total and the baby play yard can combine all the panels flexibility to provide a large play area for baby and kids. Babis and toddler can crawl and walk inside, play fun games and have a good time here. Parents can also enter the fence and play together with the baby.
Foldable and portable: The portable playpen is very easy to store and easy to take. You can customize your own shape by folding the panel to your favourite shape and tighten the hinge. You can use it on any surface, indoor or outdoor.